<![if !vml]>

<![endif]>
Vintage 20 year old bunny candle broken in three sections and restored with dowels, colored wax, and texturing to resemble original surface
Restored First Communion Candle Rejuvenated Oliver Hardy Candle

Repaired Baptism and First Communion Candles
Broken figure candle sections
A new service of the New Millennium Candle Company is the repair and restoration of badly damaged commemorative candles. The pics of a recently restored 80 year old First Communion Candle show our capabilities and craftsmanship of this new service.

The 12" long tapered candle was broken in two pieces and discolored over time. Both halves were badly warped and the backside of the upper half had melted slightly losing it's round tapered shape.

The candle sections were first straightened by warming and rolling on a shaping board. Then the two halves were drilled on a lathe, a dowel was inserted to support the joint, and the pieces were glued together. The flattened area on the upper section was filled with a wax coating and then shaped to make it round again.

The repaired candle was polished to restore the original luster and appearance. The gold ribbon details were also repainted and the candle was personalized by engraving the communicant's name vertically into the candle surface.
Repaired, restored, and personalized 80 year old tapered Communion candle

Restoration Services
| | |
| --- | --- |
| | Repair badly damaged keepsake and commemorative candles |
| | Restore the candles to the original condition and appearance |
| | Personalizing the candle by engraving with the honored recipient's name |
Capabilities
This is a new custom repair service that we are offering to our customers. We are able to use our experience of candle making and custom personalizing to restore and repair damaged commemorative or other keepsake candles.
Repairing broken candles

Drilling the ends of the broken sections, gluing a support dowel into the hole, and rejoining the broken sections

Hand Decorating and engraving

Hand decorating to the original style and personalizing by engraving the owner's name

Finishing

Sprayed with an acrylic sealer for a long lasting finish

Testimonials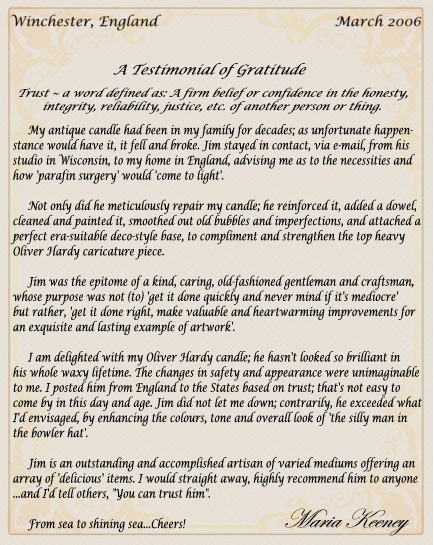 Billing Policy for Custom Orders

(Click on an image for a larger view)