<![if !vml]>

<![endif]>
Heart Shaped Floating Candles

Our heart shaped floating candles are a nice design that are available in a rainbow of colors and in wide variety of fragrances. They are a good burning candle with an actual 4 hour burn time in a dry candle holder or 3 hours floating in water and make great keepsake gifts for special celebrations. The candle is about 2¾ inch diameter and ¾ inch deep and they will fit nicely in our glass coaster candle holder.
Personalized Heart Floating Candles
Our floating heart candle is now available in limited quantities with unique personalizing for special occasions. These personalized candles will make an ideal remembrance gift for weddings, anniversaries, or other special celebrations.
The unique process we've developed has given reliable and consistent results for impressing names and dates onto the candle surface. The candles can be cast in basic white wax or in a variety of colors to match the occasion and scented from our large list of candle fragrances. The recessed lettering script is then filled with a contrasting color.
<![if !vml]>

<![endif]>
Heart Shaped Floating Candles

Price per each

25 - 49
50 - 99
100 - 199
200 +
Plain - Unscented
$1.25
$1.05
$.95
$.90
Plain - Scented
N/A
$1.30
$1.25
$1.20
Personalized - Unscented
N/A
$2.35
$2.25
$2.10
Personalized - Scented
N/A
$2.60
$2.50
$2.40
There is a minimum order of 25 unscented plain heart candles per color and a minimum of 50 for our personalized or custom scented heart shaped floating candles. Heart candles colors or scents can be combined to make up the total candle order. We offer free Priority Mail ground shipping on all prepaid custom personalized or scented heart orders over $150.
Capabilities

The custom

impression

service that we are now offering our customers will allow us to personalize our heart floating candles with names and dates to commemorate special occasions and anniversaries.

Hand poured heart candles

Hand cast paraffin wax candles with your choice of personalized colors and fragrances from our custom candle colors and fragrances charts.

Impression design preferences

The design layout for the

impression

process can include a variety of script and font styles.

Hand Finishing

After

impressing

, the recessed lettering is filled with your choice of contrasting color and sealed with a protective coating.
Procedures in customizing our heart shaped floating candles
A. Computer assisted designing

Computer programs create the layout for the personalizing and reduces it into a digital image for the impression process. Digital images of the designs are sent by e-mail for customer's feedback and final approval.

B. Candle casting

The candles are cast with a quality paraffin white wax or the customer's choice of candle color. They can also be cast with a candle fragrance or made unscented.

C. Impression process

After impressing the candle surface

,

the recessed lettering is filled with the customer's choice of a contrasting color.
D. Candle finishing
The candle is then polished and sprayed with a clear acrylic sealer to protect the candle surface.
Style #1

Lucida Calligraphy filled with gold paint

Style #2

Palace Script MT filled with lavender paint
Style #3
French Script MT filled with gold paint
<![if !vml]>

<![endif]>

Custom Color Script Metallic Paint Chart

Custom Color Script Acrylic Paint Chart
Please contact us for more information on this great gift idea and how we can

personalize this unique heart candle for your special celebration.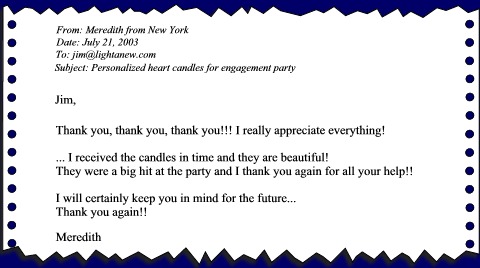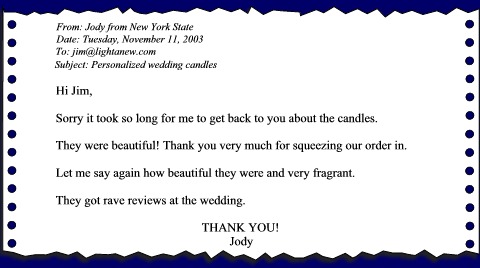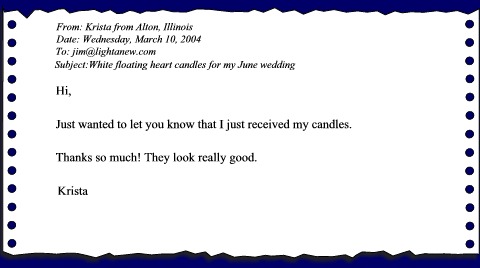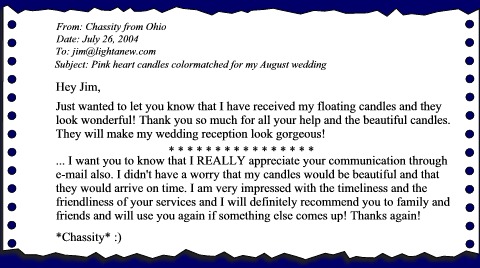 (Click on an image for a larger view)